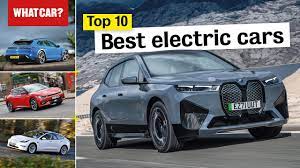 More and more manufacturers are focusing on developing new Electric Cars and platforms which could result in the number of electric cars to grow rapidly over the next several years. The fall in prices, improvements in range, increased investment, and rollout of charging networks has started to create serious competition on the market.
Big automakers like Volkswagen and Daimler are accelerating the transition towards electric drive, paving the way for the breakthrough of electric vehicles. Today we'll talk about the top 10 all-electric cars that will hit the roads as early as 2022.
Audi e-tron Sportback
Audi aims at electrifying one-third of all new models and is going to bring its next all-electric car to market in 2022. The newly unveiled e-Tron Sportback comes with a futuristic design and embedded innovative AI technologies to ensure a comfortable and connected environment for its passengers.
The vehicle will be built using the same electric drivetrain and battery as the company's first all-electric car, the e-Tron Quattro SUV, but it's equipped with a coupe a roof which makes the vehicle more aerodynamic, allowing it to overcome around 6 miles more distance.
The all-wheel-drive SUV coup will be available in two options the higher-end version is expected to have a real-world range of about 210 miles on a full charge. It will be equipped with dual electric motors for a total regular output of 265 kilowatts and 414 pound-feet of torque.
The new electric coupe a crossover features an innovative lighting technology with digitally controlled matrix LED units at the front and rear, which can produce excellent light combinations enabling the vehicle to communicate visually with the surroundings. The Audi e-Tron Sportback will have a starting price of about $78,000.
Tesla Model Y
Tesla has officially launched its highly anticipated compact crossover SUV which is expected to come to the market in fall 2022. The Model Y's design is remarkably similar to the Model 3's design, but thanks to its 10% bigger size it can be outfitted with a third row of seats for a total seating capacity of seven.
The company offers both rear and all-wheel-drive variants which come with impressive aerodynamic performance enabling at the higher end version to reach 60 miles per hour in 3.5 seconds. The car is mostly free of buttons on the inside featuring a large infotainment display in the middle of the dashboard the vehicle is able to achieve a real-world range of up to 300 miles on a single charge and has a starting price of $48,000.
The cheaper version with a smaller battery is due to go on sale in spring 2021 with a price of $39,000. Tesla also has plans to produce a more powerful version of the Model S in 2020 which will come with a three-motor powertrain and new rear-facing seats. n
Ford Mustang Mach E
Ford finally unveils it's gorgeous powerful long-range all-electric SUV, which is inspired by the company's iconic muscle car. The Mustang Mach II comes with the three bar taillights and a familiarly shaped grille cutout.
The company will first deliver the premium and first edition models in late 2022 which can achieve a real-world range of 270 miles with a pair of electric motors powered by an extended-range battery and the premium model with a single motor-driven powertrain can overcome a distance of 300 miles. The rear-wheel-drive base model can achieve a range of 230 miles on a full charge and reached 60 miles per hour in about 6.5 seconds driven by two electric motors.
A special GT performance Edition, which will be available from spring 2021, is able to accelerate from 0 to 60 miles per hour in 3.5 seconds like the all-wheel-drive Model Y performance variants. Mach E offers a spacious interior featuring a large touchscreen in the center of the dashboard for navigation and entertainment as well as an additional screen in front of the driver for speed and battery information. The Mustang Mach E has a starting price of $43,900.
Rivian R1T
US-based automotive start-up Rivian has launched its first all-electric pickup truck which comes with an impressive all-electric powertrain and special features. It's an intelligent adventure machine, with a robust and rugged design featuring as the company describes a lockable gear tunnel that extends through the entire width of the vehicle and provides more than 350 liters storage area.
The five-passenger vehicle comes with three powertrain options equipped with four independent electric motors on each wheel and the higher end version provides a maximum 562 kilowatts power capacity and 3500 Newton meter of grounded torque per wheel.
The ability to control the torque at the wheel and configure the total power output to different levels enables the owners to steer the pickup truck like a tank which is capable of reaching 60 miles per hour in an incredible three seconds. The different power levels match different choices of battery packs which can provide a range of 230 to 400 miles on a full charge.
Inside it features a 15.6-inch touchscreen display dominating the middle of the dashboard for navigation and entertainment. Rivian has been working on possible configurations of the r1t to offer owners different options which could result in a zero-emission camper version of the vehicle. The r1t starts at $69,000 and the first deliveries are set to begin in late 2022.
BMW IX 3
BMW that aims at electrifying 25 models by 2023 is going to bring its next all-electric car to market in 2022 which will feature the fifth generation of BMW E drive technology for the first time. This means that the BMW IX 3 which was unveiled at the 2018 Beijing Motor Show will feature more integrated powerful and compact drivetrain and battery packs with higher energy capacity.
BMW classifies the IX 3 as a sports activity vehicle that comes with a 70-kilowatt hours battery pack with an expected peak output of 250 kilowatts and at 150 kilowatts charging capacity. The BMW IX 3, which is due to go on sale next year, will be the first model produced for the entire global market at the Chinese production location in Shen yang.
Polestar Two
Volvo's performance brand Polestar has launched its first all-electric car which is due to come to market in 2022. The Polestar 2 is built on Volvo's all-electric adaptable compact modular architecture platform and comes with a performance-oriented design delivering a lower drag coefficient for enhanced aerodynamic performance.
It's the first vehicle that features an Android-powered infotainment system creating a unique and responsive customer experience the system provides all the necessary information on the vertically mounted 11-inch display and offers a broad range of services and functions using an in-car version of Google Assistant.
A pair of electric motors, one on each axle, that joined forces to provide a total output of 300 kilowatts and 488 pound-feet of torque send a vehicle from naught to 60 miles per hour in less than five seconds. The battery has a total capacity of 78 kilowatt-hours for a real-world range of about 275 miles on a full charge. Dual electric pole star 2 which has a starting price of around $45,000, goes into production in China to be distributed globally from June 2022.
Porsche Taycan
German high-performance premium automobile manufacturer Porsche has finally unveiled the production version of its highly anticipated first all-electric car which comes with quite stunning design and impressive performance.
The Taycan' s stylish design which is very similar to the original Mission E concept enables superior driving dynamics with an impressive 0.22 drag coefficient. The company is going to bring both the higher end and base versions of the Taycan to market next year. They're equipped with two permanent magnet synchronous motors one on each axle which can deliver a maximum power output of 560 kilowatts and 777 pound-feet of torque, enabling the higher-end version of the vehicle to hit 62 miles per hour in just 2.8 seconds and develop a top speed of 162 miles per hour.
Taycan models can achieve a real-world range of 225 to 255 miles on a full charge. The sport sedan comes with a luxury forward-thinking interior offering innovative digital assistant services through several touchscreen displays and the interactive voice assistant to access all relevant information and control a host of features inside and outside of the car. The Porsche Taycan will be delivered to Europe and the US in the first half of 2022 and has a starting price of around $104,000.
Mini Cooper SE
BMW has launched its second all-electric car the Mini Cooper SE electric hatchback which is slated to arrive in the first quarter of 2022. The vehicle shares the iconic mini design and characteristics but comes with a completely different powertrain based on the BMW i3 electric powertrain. With a front-mounted electric motor that delivers a maximum 135-kilowatt power output and 200-pound feet of torque, the car can reach 62 miles per hour in 7.3 seconds, transferring the thrill of its agility and performance.
The electric mini cooper SE offers three style options that come with their own innovative technology and features. With the battery's energy content of thirty-two point six-kilowatt hours, the vehicle can achieve a real-world range of about 140 miles on a single charge. The electric Mini will be delivered to Europe in the US at the beginning of 2022 and in the US it will have a starting price of $29,900.
Peugeot e-208
French automobile manufacturer Peugeot has launched its first all-electric production car the e-208. The sharp and smart-looking five-door electric hatchback offers a smooth and instinctive driving experience. The vehicle comes with the same interior and cargo space as its gasoline-powered counterparts.
Inside it features a 10-inch HD color touchscreen for the center display and a 3d instrument panel display for speed and battery information the front-mounted 100-kilowatt electric motor is powered by a 50-kilowatt hours battery pack for a range of 211 miles on a full charge.
The electric hatchback will arrive in early 2022 and is now available to pre-order from Europe with a starting price of about $34,000. The French automaker also has plans to bring its production cars to the US and Canada by 2023.
Mercedes-Benz EQ
Mercedes-Benz unveiled its next-generation all-electric car under the EQ brand at the 2017 Frankfurt Auto Show. The company intends to have more than 10 all-electric vehicles on the
market by 2022. The compact electric hatchback has aesthetic appeal thanks to the light technology featuring laser fibers the black panel at the front end acts as a virtual radiator grille and changes its look and color depending on drive modes.