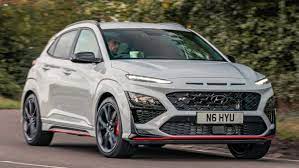 We should all know about the Hyundai end division by now in 2017 they hit the scene with a hot version of the i30(Hyundai Kona) that was so good it made the golf gti feel boring fast forward a few years and the end division has not only added a smaller hot hatch to its ranks in the form of the i20n it's also given the performance treatment to its small SUV the Kona N.
The Kona N there's a petrol a diesel a hybrid
what's interesting is that there are a million different versions of the Kona there's a petrol a diesel a hybrid there's a Kona electric and then, of course, there's the cool one or should I say the hot one because it's got the spicy engine the Kona N the end, by the way, stands for Nürburgring where this car was tested bizarrely but also name yang which is Hyundai's South Korean research and development facility.
you're welcome
Next, I'll treat you to a look around it has a mean grill extra nostrils just under the bonnet and some sinister-looking headlights in profile it has 19-inch lightweight alloy wheels sitting nicely under chunky wheel arches to give it a muscular vibe and then around the back a big old spoiler with high-level brake light and down the bottom a diffuser I guess no debate about that exhaust though they sound the business.
looking at this car Kona N
So what's it like when you're driving in anger well there's two ways of looking at this car I think whoa it's lively one is to say oh my god it's a bit of an animal one way of looking at it is to say the crossover market is not the most exciting in the world so meh the other way to look at it is to say the crossover market is not the most exciting in the world so why not have a powerful one that's engaging and fun and wants to kill you under the bonnet it uses a two-litterlout-cylinder turbocharged engine
The same one as you find in the i30n
Oh my god then it makes 280 metric horsepower and 392 new meters of torque now that's not a mad number by any stretch of the imagination but this engine was a right old giggle in the i30n and it is here as well all of that power gets sent to the front wheels via an eight-speed dual clutch gearbox so it'll do not to 62 in 5.5 seconds and if you keep your foot pinned I'm not gonna down here because it's a little bit sketchy it'll reach 150 miles an hour so it might not look like much this thing.
I'll tell you what it's a quick old car
if you're one of those people who think that that level of power isn't sufficient for you well then guess what because this big old red button on the steering wheel is the n grin shift button NGS you push that and it gives you an over-boost function for 20 seconds it gives you an extra 10 horsepower so 290 for 20 seconds and there's a little countdown on the dashboard.
I'd say ordinarily I wouldn't have thought that 10 extra horsepower
would feel like much but you do feel it in this it's like a little terrier I'll tell you what else it does as well it makes the gear shifts a bit snappier and makes the exhaust even more anti-social it's basically an asbo button on top of that there are several different drive modes to play with so you can see two blue buttons on the steering wheel the one on the left lets you cycle between eco normal and sport and all that does basically is it stiffens up the steering for you and it increases the level of throttle response but the end button on the right gives. you end mode and that it causes a little flame graphic to display on the driver display and just makes everything as angry as possible tell you what you can really feel the upshifts in this car in end grin mode it's very very violent every time it changes up there's a significant bang like a like an increase in torque.
will buy one and take it to a race circuit
it's something I've never really felt on a hot hatch before and it's very welcome wow that's good that is properly good so it's a giggle obviously not everyone will buy one and take it to a race circuit so it's worth saying a few things about what it's actually like with your sensible hat on and it's pretty good as you've probably seen the suspension feels like there isn't any but if your family doesn't mind being bounced around there's decent room inside plenty of space in the back a 374 boot and enough space up front for grown-ups to not feel too claustrophobic the materials aren't necessarily premium but it has good equipment there are no options on the Kona end you get everything including heated steering.
wheel heated seats 10-inch display with carplay and android auto
it's refreshingly generous but more importantly, it's just fun to drive right so let me just talk you through a few things the throttle is very responsive steering quick direct not brimming with feel but certainly accurate enough brakes 360 millimeters on the front 314s on the rear and it does stop well and the car's light to it's only around 1500 kilograms which means it does feel quite agile.
it's so lively the Kona n also has a limited slip differential
The front which in theory should help it get its power down through corners such as this one but what you notice is there's a little bit of torque steer where when you accelerate the car wants to slightly pull to the left or right so that is something to be mindful of but I'll tell you what it does make the experience a little bit more interesting.
I really like the Hyundai Kona N
it's also got an old-school manual handbrake which is for people who are feeling daring according to hyundai guess I'm feeling daring today so in summary, then i think it's fair to say I really like the Hyundai Kona N i mean a small performance SUV is definitely not at the top of my shopping list I would probably personally want to go for the i30n but I tell you what has driven this I've fallen in love with it I think it's brilliant it is probably the most fun I've had in a small SUV in my entire life and I tell you what you can't say fairer than that get one you.